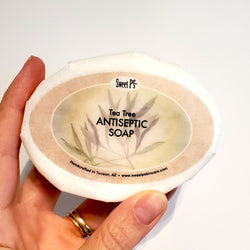 Soap - Tea Tree (Antiseptic Soap) 5 oz
Vegan bar soap that cleans with a creamy lather that leaves skin soft, nourished, and treated with antiseptic tea tree oils
Each handcrafted bar is made with certified organic oils and butter
Available in 5 oz oval soap
Ingredients: Melalueca alternifolia (tea tree essential oil) ,certified organic Cocos nucifera (coconut oil), Olea europaea (olive oil), Elais guineensis (sustainable palm oil), Vitellaria paradoxa (shea butter), Simmondsia chinensis (jojoba oil), ricinus communis (castor) oil, and saponified sodium hydroxide.
Wonderful clean feeling!
Highly recommend this soap. Great lather with a squeaky-clean feeling
Wonderful clean feeling!
Highly recommend this soap. Great lather with a squeaky-clean feeling