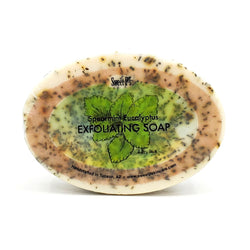 Soap - Spearmint/Eucalyptus (Stress Relief) Exfoliating
Cleanse with soap made from organic oils, butter and spearmint hydrosol, crushed leaves and essential oil
Spearmint and eucalyptus create an aromatherapy experience that helpsopen your respiratory track and invigorate the senses.
Each handcrafted bar is made with certified organic oils and butter
5 ounce oval bar
Ingredients: Mentha spicata (spearmint) hydrosol and crushed leaves. Spearmint and eucalyptus essential oils, Cocos nucifera (coconut), Simmondsia chinesis (jojoba seed), Olea europaea (olive), rincinus communis (castor) oils and Vitellaria paradoxa (shea butter and saponified sodium hydroxide, zinc oxide.
Cruelty free, never tested on animals.
Free of SLS and parabens.