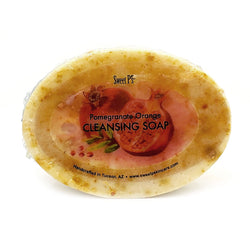 Soap - Pomegranate/Orange Cleansing
Cleanse your body with the luxurious skin-softening effects and the pleasant clean fragrance combination of sweet orange and pomegranate. 
Hand milled sweet orange peel, hydrosol and essential oil.
We selected organic flavor oils so that your soap would have the beautiful, clean fragrance of pomegranate without synthetic fragrance oils.
Each handcrafted bar is made with certified organic oils and butter

5 ounce oval bar
Ingredients: Organic Helianthus annus (Sunflower oil), pomegranate flavor oil, hand-milled Citrus sinensus (sweet orange) peel, hydrosol, and essential oil. Cocos nucifera (coconut), Simmondsia chinesis (jojoba seed), Olea europaea (olive), Rincinus communis (castor) oils and Vitellaria paradoxa (shea butter) and saponified sodium hydroxide.
Cruelty free, never tested on animals.
Free of SLS and parabens.